I didn't hit send…yet. It occurs to me that petty as these folks are, she really could lose her job. But I share this story with you, NEV readers, in the form of a letter to the Graz Tourism Board.
Dear Graz Tourism:
I am an American, married to an Austrian. I was in Graz with my family yesterday – both the American side and the Austrian side – when we met one of your guides. We were walking around the city when your guide confronted my brother in law, telling him that I was not allowed to discuss the sights unless I was a certified guide! He told her that we were a family. Her response? "That's what they all say."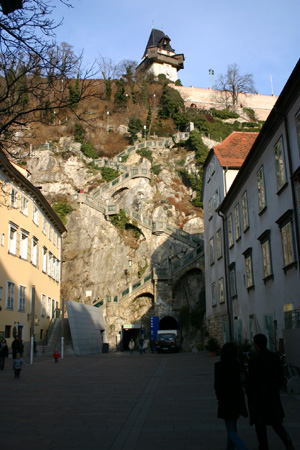 Furthermore, later that afternoon in another part of the city, she confronted him again, stating that if I wanted to take groups around the city, I could join the guide certification program. She did not believe that the group was, indeed, my family. She told my brother in law that it was "not allowed" to learn about the city privately and to then share that information with others. She told him that studying a guidebook and using it as a source for a tour of the city was also "not allowed." Again, she reminded my brother in law that private guiding was "not allowed."
Note that my brother in law, my sister in law, and my niece – with us that afternoon – are all residents of Graz.
This kind of behavior speaks very badly for the city of Graz and the guide services. First, it implies that the history of the city is not available to anyone who wishes to learn about Graz. Is history now privately owned? It also implies that those wandering Graz on self guided tours are committing some kind of crime, rather than simply enjoying the sights of a lovely city. And it does nothing for the image of the city's certified guides, who appear snobbish, insecure, and rather rude.
The guide we encountered was more interested in lecturing my brother in law about our "suspicious" family behavior and my need for credentials than she was in offering her services as a guide to our group. Instead of telling us our behavior was not allowed, could she not have said, "Next time, why not hire a guide?" and given us a business card or a brochure? Additionally, how was our conversation any of her business?
I work as a freelance travel journalist and I take a special interest in the history of my adopted homeland. I write about Austria frequently and I recommend sights and services to my readers. And, like any American living abroad, I have guests – friends and family who fly over to visit this beautiful land. I will continue to show them around Austria and share my knowledge of Austria with them.
What I will not do is behave as though it is illegal to discuss Austrian history and the sights of Graz. And I will certainly not recommend that my guests or readers hire a guide from your service. They may be certified and knowledgeable, but the behavior we experienced? Unforgivable.
This confrontation with the guide is now our family souvenir from our visit to your city. Is that not a terrible shame on Graz?
PM, NEV Tours