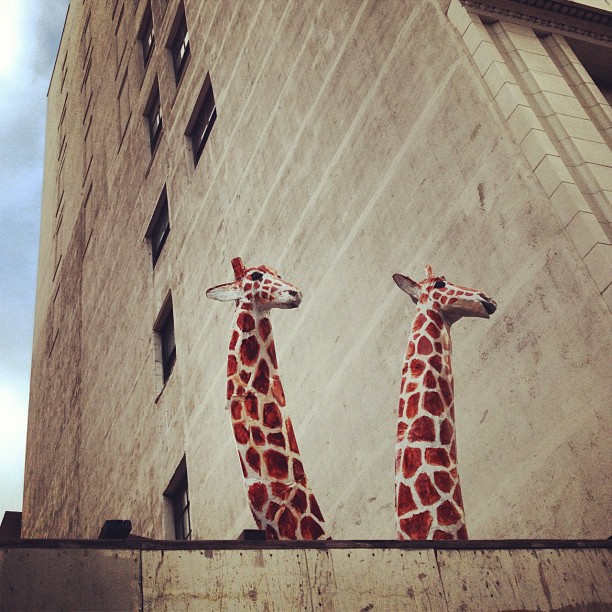 I had been quite firm in my "I hate LA" sentiments until I skittered down for a short overnight. LAX, the international airport, remains my least favorite airport on the planet (with Chicago's O'Hare being a close second) but once I disembarked the Flyaway bus (7 dollars to downtown, and fast!) at Union Station, my thoughts on LA… shifted. I was immediately smitten with the gorgeous train station, the platforms labeled in an unknown but elegant typeface, the engines idling on the tracks. The station itself is lofty and elegant with marble floors and big armchairs and deco cafe fronts.
And then, the streets of downtown LA. A survey of American architecture from the grand decorated facades of 1920s highrises to blocky reinforced concrete modernism to Frank Gehry's shiny pile of curved metal sails. It took me 90 minutes to walk just over a mile because I was utterly diverted by public art, by Mexican wedding chapels, by little pocket parks. I ducked into the public market intending to grab something to go and ended up spending half an hour looking a chilies and eating pupusas from the Salvadorean takeout counter and chatting with other folks who'd stopped in to get lunch, too.
I found myself genuinely sorry to be heading back home. While the air can not compete with the fresh smell of Seattle and the traffic — oh, the freeways, they are criminal — reminded me of why I was eager to flee Southern California, I regretted that I had not decided to stay another day, two, even, to spend time at the old Puebla, to visit the museums, and to just walk around downtown gawking at everything there was to look at. Everywhere I put my eyes there was a photograph and it was a great surprise. And a great pleasure.
I'd love help identifying these two giraffes — they're on 5th near Broadway. Calder Greenwood?