"Are you going to Africa?" the driver asked as I sat down in my taxi to the Seattle airport. Were my REI conversion pants were a giveaway?
"Yes," I told him, "I'm headed to Tanzania."
"I knew it! When you got in the cab I was immediately happy," he shouted.
As a college student in my early twenties I studied wildlife biology in Kenya and enjoyed an idyllic East Africa. After graduating I joined the Peace Corps and went to Niger, in West Africa—a much harder place to live. Now, 25 years later, I was returning to Africa for a safari in Tanzania.
"Are you from Tanzania?" I asked.
"No, I'm from Nigeria. But anyone traveling to Africa makes me happy." He slipped a Papa Wemba CD into the stereo. We listened to a jubilant Congolese soukous rythm the rest of the way to the airport, talking about Africa, African music and African problems.
§
In 1988 I was a 21-year-old anthropology major wanting to experience Africa's cultural and biological diversity, so I signed up for a semester at a wildlife biology field school in Kenya. But I was also looking for a place to hide for a while. I had recently consummated, then abruptly ended, my first gay relationship. I was confused by my actions and Africa seemed like a good place to pause and think for a while.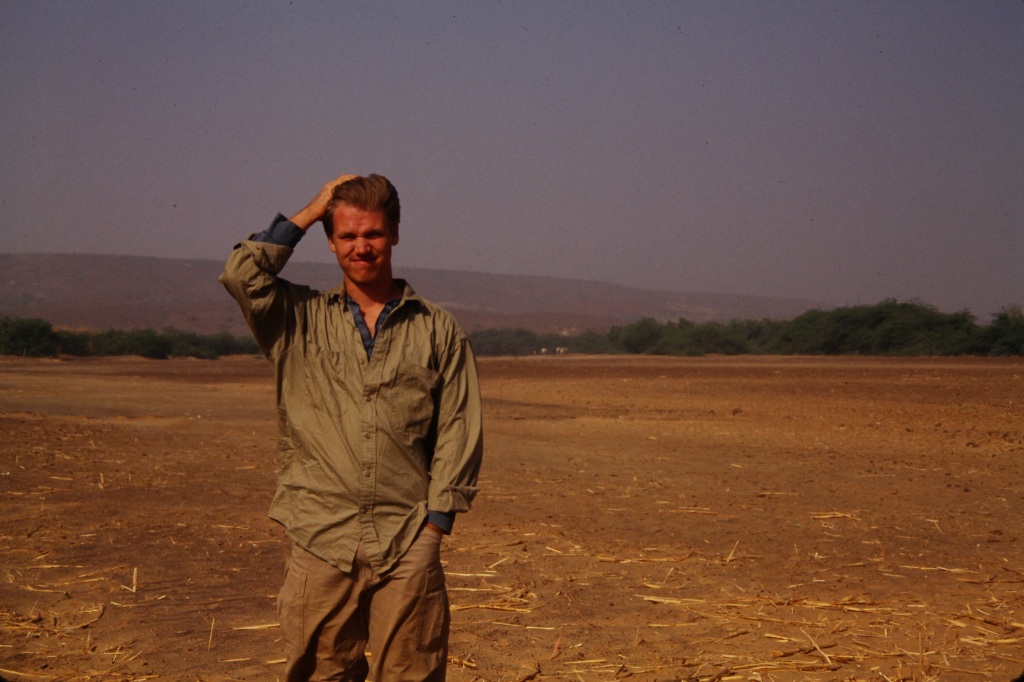 The field school where I studied was on a game ranch outside Nairobi National Park. The African savanna was our backdrop. We lived in tents and went to lectures in an open-air hall. Giraffes and gazelles were our neighbors. Our days consisted of lectures, game drives and research projects. It was like an East African summer camp.
After the semester was over, I planned to take my dad and stepmother, Trudy, on a safari. I wanted to show them some of the places where we had gone on school trips—Lake Nakuru to see the flamingoes stretched out in a sea of pink, Mt. Kenya to climb the second highest peak in Africa, and the Maasai Mara Reserve to see the beginning of the Serengeti. Trudy taught me to enjoy the wonder of life in the natural world. She once owned a resort in the Wisconsin Northwoods where I spent blissful summers in my younger days. She was a second mother to me. I wanted to show both of them my newfound East African playground.
After returning from climbing Mt. Kenya I received a letter from my dad. Trudy was in the hospital with a potential brain tumor. A letter the next day said that they had operated but that she wasn't responding well. I called home and he told me that Trudy had not improved since surgery; they would not be coming to Africa. My world had quickly collapsed upon itself.
Just before I returned stateside, my class visited the town of Machakos, not far from our school. The terrain was like a Swiss alpine village: sweeping views of the valley below, cool air, and plenty of cows walking around. I knew I didn't want to leave Kenya. I didn't know what kind of shape Trudy would be in when I returned. And then there was the coming out of the closet thing. But I also I felt the gravitational pull of Africa. I decided that I would return to teach, or do something useful.
At 23, after I graduated college, I joined the Peace Corps. I had no idea what I would do with my BA in anthropology and needed some time to figure out my next move. I had also begun my journey out of the closet, telling a few close friends, but not my family. Going back to Africa would, I thought, buy me some more time and help me figure things out.
The Peace Corps sent me to Niger, a West African country which suffered from lethal droughts, food shortages and desertification. I would be an agro-forestry volunteer working on environmental protection projects on my own, deep in the bush. This would be much more serious than studying giraffes in Kenya.
After language and technical training, Peace Corps sent forty of us volunteers to village posts scattered across the country. Mine was in the Zinder district, a thousand kilometers from the capitol, a tiny hamlet called Gabi which had neither electricity nor running water. It was ten kilometers off the paved road through the sandy, roadless bush. The thudding sound of women pounding millet in mortars and the smell of wood smoke hung in the air the day I arrived. Baobab trees with huge trunks and small branches dotted the landscape. The air was hazy with dust from the hot, dry harmattan winds which blew across the Sahara in the spring. My house was a two-room, mud-brick building with dirt floors and a latrine on the side.
I adjusted poorly to life in the village. The Nigerien bureau that I was supposed to work with had no projects for me, so I was idle much of the time. I was sick with dysentery and giardia. And I was acutely lonely—the nearest Peace Corps volunteer was 10 kilometers away and my family and friends were much farther than that. Plus my motorcycle, my only way out, was old and prone to breakdowns. I would regularly get anxiety attacks about being stranded in my village and so far from anyone who loved me.
My decision to leave the Peace Corps after only eight months in country early was the toughest I had ever made. I couldn't survive two years of anxiety attacks, I never did figure out what I was supposed to be doing, and more importantly, I couldn't finish coming out of the closet while living there. I needed to go home to move on with my life.
After returning to the States I moved to Seattle, got a job, and came out to my family. But the feeling of failure would haunt me for a long time. Years later I still had strange dreams about returning to Niger. Africa was always in the back of my mind: I kept up with news, I read books, and I listened to a lot of African music. But I hadn't returned to sub-Saharan Africa.
Now, twenty five years after Niger, I was returning. My father, sister and I were going on safari in northern Tanzania. As we sat in the Dar es Salaam airport cafeteria waiting on our final connection, I walked to the counter to order some food, eyeing the samosas in the display case. "Yes, my friend!" said the woman behind the counter. I ordered three large Serengeti beers and several samosas—curried meat pies, my favorite African food—for our dinner. "The samosas are good, my friend," she said with a broad smile, "very fresh!"
I'd forgotten how friendly East Africans could be and was taken off guard. But a feeling of belonging seeped into my jet-lagged brain and I wondered why it had taken me so long to return.
Our safari guide, Ray, showed us everything. We saw animals: elephants, lions, wildebeest, zebra, leopards, and cheetahs. I was thrilled to be back in the wonderland of the East African savanna. One late afternoon Ray drove us around in the Range Rover, dodging the thunderstorms that were all around us. We saw a pride of lions so close I could almost touch them. As we raced around in the wind, I don't know if that water on my face was rain or tears.
Each time I have come to Africa I was at a crossroads, unsure of the future. I came on this trip, like my other African journeys, from place of unknowing: Two months before my employer of many years had laid me off. I enjoyed a brief sabbatical and then a job offer with a career change came through. Now I was wondering what changes waited for me when I returned home.
On the return flight I sat next to Magni, a Kenyan man close to my age, on his way to Seattle for a seminar. We talked about my trip, and my past trips, to Africa. He asked if I wanted to return again and I told him that I would. "I think when a person goes on a journey like yours they don't come back the same person," he said. I nodded with a grin. I couldn't have agreed more.
Mark Lammers blogs at Wilder Shores.