My friend A. was invited on a press trip and could not go, so he recommended the organizers take me instead. "You'll love it," he said, "the music there is amazing. You should go."
I filled out the paperwork and traded email with the PR gal who's organizing the trip. "I don't have an assignment, all my stuff is freelance and if I pitch stories before the trip, they'll be turned down. I can't promise you any coverage besides on my blog. But hey, here's my  portfolio…"
She was totally okay with that, but I hesitated for a few days. Junkets are weird. You go on a trip organized by a provider you didn't choose with people you didn't choose to places you didn't choose. There are massive perks, of course, you get nice hotels and nice dinners and if you're lucky — and I have been — you meet some nice people.
But they're not great for travel stories. I do my best work when I travel alone and social media fatigue, that's a real thing, editors won't take stories from overly-hyped destinations.  I recently ran into friends who were off to Hawaii with 20 other new media types and my immediate reaction upon hearing this was, "Welp, I won't be trying to place any Hawaii stories any time soon." Junkets are a minefield for me, but A's enthusiasm won out. When a well traveled writer friend wants you to write about a place he loves, that's a compelling reason to say yes. So I did, and I now have plane tickets.
(Anyone got United Airlines upgrade certificates they'd like to unload? My flights and seats are terrible.)
Once I said yes, it occurred to me that I know hardly anything at all about Trinidad. I figured out some historical basics because I know three or four things about history, and then I did some research. Right now, this is what I understand — not much — about Trinidad.
Like much of the Caribbean, Trinidad was once a slave worked sugar plantation economy. Once slavery was outlawed, the British imported indentured workers from India (a kinder, gentler slavery, she says, rolling her eyes). Upon learning about the Indian population, I could think of one thing only, please forgive me, but it was this: The food must be amazing.
The Nobel Prize winner V.S. Naipul is from Trinidad. He wrote one of my earliest favorite travel reads — I read his Among the Believers side by side with Paul Theroux's Great Railway Bazaar. I'm currently reading A House for Mr. Biswas, about an Indian family in Trinidad.
Modern day Trinidad's economy is driven by oil. I don't know why I was surprised by this. Trinidad is just off the coast of Venezuela and their oil industry is huge. I'm an electric bike riding fish-hugger, so I have a lot of questions about drilling and the environment in this part of the world.
The steel drum hails from Trinidad. I know nothing about playing percussion, but I tell you what, if there's a lesson, I am going to be the first to volunteer. I'm no phenom as a musician, but I do know one thing: my timing is good. So I AM IN.
There's a pitch lake. It's a similar geologic phenomenon to the La Brea tar pits. It's a whopping natural deposit of asphalt. Tourists find it interesting because it's so odd, but the stuff I read by locals sure makes it sound like they are over it, can we just go get lunch, already?
Angostura bitters — an essential cocktail ingredient — are produced in Trinidad. There's an Angostura rum, too, and I have no idea if that's something I want.
There are either 13 or 17 species of hummingbirds in the twin islands that make up Trinidad and Tobago. The trip I'm going on is focused on food, but I can not promise I will not stalk every single species of hummer while I'm there, possibly causing a problem for my companions. "Mandel. Get in the van." "Five more minutes, I'm trying to snap this tufted coquette, you guys, have you SEEN the tufted coquette? THIS IS A RIDICULOUS BIRD."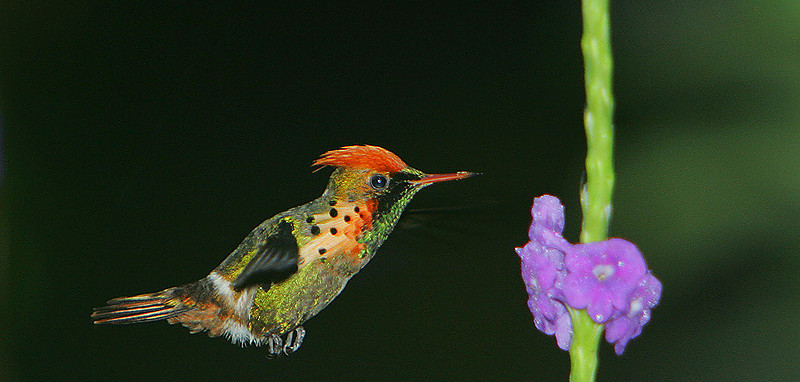 So, yeah. I'm going to Trinidad. Anything you think I should know?