My travels in the south were paid for by Visit the Delta.
I saw the ghost of Elvis on Union Avenue
Followed him up to the gates of Graceland
Then I watched him walk right through…
Union Avenue is a huge arterial. I drove south from downtown Memphis past chicken joints and dollar stores and mobile phone outlets and strip mall after strip mall after strip mall and there it was, on my right, the gates of Graceland. I couldn't turn into the driveway, I had to head down a long suburban block past a KFC, make a u-turn, and then turn right  into what was basically an Elvis mall. It cost me ten dollars to park and another 35 dollars for the bare-bones Graceland tour.
"It's not Elvis week," said a woman I'd talked to earlier that day. Her toddler was playing with my phone, one little hand on my knee, while we chatted. "And it's not his birthday, so this is a really good time for you to go. I mean, there are other places for you to pay homage, there's Sun Studios, and oh, also, there's WC Handy's house — it's not Elvis but…"
My mind was made up. I wanted to go to Graceland.
My traveling companion is nine years old
He is the child of my first marriage
But I've reason to believe
We both will be received
In Graceland
Tours leave every ten minutes or so from the Elvis mall.  While you're standing in line for your shuttle bus, an employee hands you an iPad and a pair of headphones. Graceland tours don't use human guides, it's all automated, tap the next arrow when you're in the kitchen, the entertainment room, the jungle room… The iPad is full of multimedia stuff, narrated by the actor John Stamos. And sometimes, Lisa Marie Presley tells stories about her dad. Nobody talks to you when you're on your tour, not unless it's to tell you to hold up on the mirror clad staircase or to move along, please, or photos are fine but no flash. It's just you and your headphones and a quiet cloud of the Elvis curious.
Ah, they came in their thousands from the whole human race
To pay their respects at his last resting place
But blindly she knelt there and she told him her dreams
And she thought that he answered or that's how it seems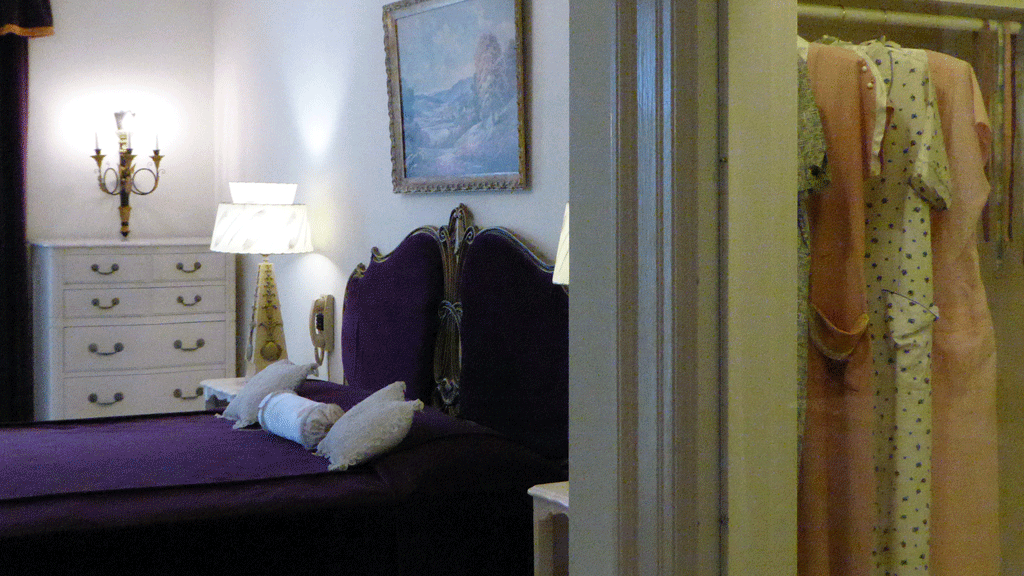 Elvis and his parents are buried at Graceland. There's a semicircular pathway that takes you past three tombs and a smaller marker for Elvis' brother, Jesse. It's weird to see Gladys Presley's neatly hanging dresses in a closet in the house and then, to see the stone capping her grave outside in the garden. It's weird to see Vernon Presley's desk and then, to see the stone capping his grave outside in the garden. It's weird to see Elvis Presley's dark brown paneled kitchen and his record collection and his pool table and his light switches and his white upholstered sofas and his staircases and then, to see the stone capping his grave outside in the garden.
The recorded audio says, "Elvis passed on August 16, 1977." I wondered about the script meeting where they settled on not saying a thing about how Elvis died.
And I guess he shoulda done like James Dean did
'Stead of putting on weight and sinking down, down, down
Easier to take if he had just skidded straight
To souvenir city and T-shirt town
Graceland is weird.
Seeing the hall of gold records isn't so strange — wow, there are a lot of them — and I laughed out loud while looking through the glass barrier at the artwork that Elvis fans sent him, piles of it, some quite good at expressing his likeness. Elvis' racquetball court is now used to display his rhinestone decorated jumpsuits and I laughed at that, too.
But the house is, well, I'll just say it, it's tacky. The peacock stained glass windows, the garishly upholstered pool room, the smoky marbled mirrors in the halls, the house expresses the pinnacle of bad 1970s design. I paid 45 dollars to walk around an Architectural Digest from 1974. I didn't feel anything while walking the grounds. For a temple of rock and roll, the place was surprisingly devoid of soul.
Elvis' spirit lives elsewhere, I guess.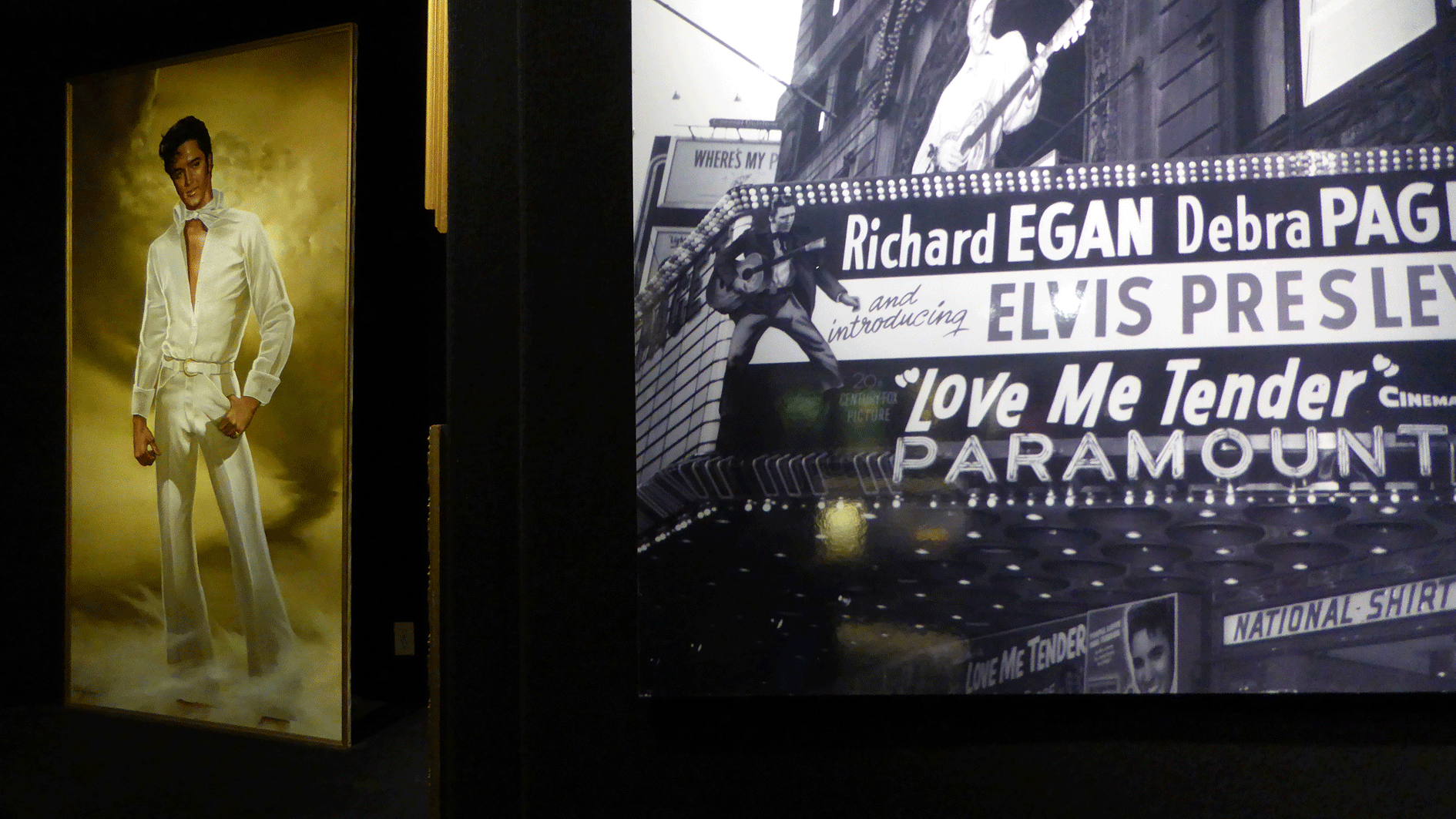 Strike that.
Out front there are two brick columns that flank the gates to Graceland. They're covered with tiny graffiti.  Elvis Lives, it says, or Leanna Loves Elvis, or Elvis Forever, or We Love You Elvis.  People come from all over the world to see where Elvis lived out his most successful years, to scrawl their names on the gates, to say that the music meant something to them.
I was a tourist but all those names on the gates, those are from pilgrims come to pay homage to their saint of rock and roll.
He's not my deity, but for many, he was the King.
Elvis is everywhere
Elvis is everything
Elvis is everybody
Elvis is still the king

Man o man
What I want you to see
Is that the big E's
Inside of you and me