Maybe a dog would make me feel better. A dog would make me put my shoes on and go outside even when the sky was blanketed in clouds the color of dryer lint. It would be nice to get some eye contact or to do some behind the ears scritching in the dark hours of the morning. Rather than talking to myself, it would be good to have a dog around to talk to because I would seem slightly less crazy.
Maybe a dog was a bad idea for all the obvious reasons. You can list them yourself, I'm sure. What I wanted to do was try a dog out for a few days and see how it felt. I went about it exactly the wrong way.
It was cold when I went to meet Harley, temperatures refused to break 40 degrees (4C). At the rescue home where he was boarding, Harley sat in my lap and shivered. We moved into the sun and I scratched him behind the ears and he relaxed. "Oh, shit," I thought, "He likes me." When I went to the car, leaving him behind, he looked over his shoulder, tracking. I had travel plans, Harley would have to wait.
Two weeks later Harley was still there. He'd been rejected by the one person who came to see him for not having enough Dachshund in him. He's got no Dachshund characteristics; he looks like a rat terrier and he might have some Chihuahua in him, or maybe not. He's small — 11 pounds — and before he arrived in Washington, he was in what's called a "high kill facility" in Los Angeles. This doesn't necessarily mean the shelter was bad, only if the critters don't find homes, well…
The Wednesday before Thanksgiving, two friends joined me and we went to fetch Harley for the holiday weekend on loan. That was the plan, anyway. Harley spent some time on a pile of blankets in the living room, and then had a quiet night in a borrowed crate in the kitchen. The next morning — Thanksgiving — he peed on the hardwood floors. I was prepared, he didn't know his territory or how to tell me he wanted out.
After I cleaned up the mess and scrubbed the floor with vinegar, I looked at him, curled up under the kitchen table, so content. "Oh, hell," I thought, "He's happy here." Then, to my horror, I watched a flea crawl across his floppy left ear. Fleas were something I was not prepared for. The shelter was supposed to have bathed him but he did not get a flea bath. We sprung into action. My friend Larry appeared on the porch with flea soap and Harley went into the tub, to the detriment of his hitchhikers and much to his own dismay. His bedding went into the wash followed by a lot of time in a hot dryer. I ran the vacuum and while I did, my friend Amber took Harley outside and brushed off any remaining icky bugs. None of this drama has been repeated; he's flea free and he's not peed in the house since his first incident.
Lessons: One should have very pet friendly friends at the ready should one be considering adopting a critter. One should also scrub up said critter immediately.
After everyone had calmed down, we decided to take a walk. Harley has good basic leash training — he walks right with me, stops when I stop, looks up at me often to see if everything is okay, doesn't chase after other dogs or humans… Whoever unloaded him may have been a runner, he picks up the pace as he gets more relaxed.  "Dammit, he's so companionable," I thought. Later, we sat in the warm sun and he rolled over and showed me his belly. "Dude, you are a pro," I told him, while scratching his chest. Harley just smiled.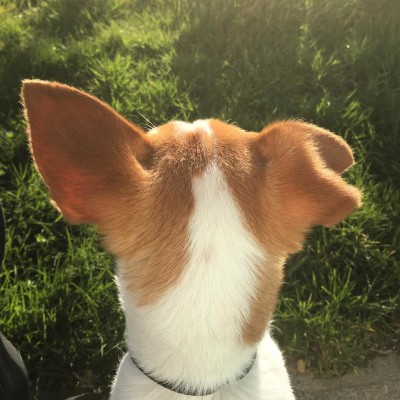 He snoozed peacefully all through Thanksgiving dinner and continued his charm offensive of being cute and well behaved. The next day, he fell asleep in my lap with his chin resting in the bend of my elbow. "Right." I toyed with his one floppy ear; he went on sleeping. "Like I can send you back NOW."
Amber was the voice of reason. "Get him looked over," she said. "Make sure he doesn't have a cracked engine block or need a new clutch." Off we went to the vet where he received an excellent diagnosis.
"I wouldn't say he's in mint condition," the vet said, "but he's in perfect shape for his age."
I can not guarantee the dog you bring home will work you over so completely and with such great skill. But even if you are prepared for the curve balls a dog will throw your way as a temp, you will lose. The minute he falls asleep in your lap the game is his. You may take a while to own him, but he will not care. He will own you on the day you put him in the car to take him home. On spec. Yeah, right.
This morning, Harley popped out of his crate to drink some water and positively skipped to the front door, tail wagging, eager to go for a wander around the neighborhood. It was 36 degrees and foggy and I had not yet had coffee. I was delighted to take him. I'm an idiot.
Oh, by the way, I have a dog now — or rather, he has me.  His name is Harley. He's a bit funny looking and has some things to learn, but he sure knows how to win a girl over.