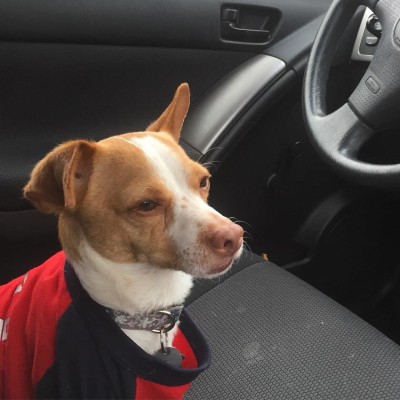 When left to his own devices at home, Harley the Dog curls up in one of his favorite napping places and contentedly snoozes away. If we've given him a chew stick (he loves these by Free Range Naturals
), he'll amuse himself for an hour, longer, and then take a nap.
But harness the little guy up for car travel and he's nothing but stress. Spare me your lectures (it's in bold because I mean it, spare me) on the potential horrors that will meet my dog because he's on my lap or tucked down on the floor by my feet on the passenger side. The current goal is to get from A to B without said pup dropping dead from a stress induced heart attack.
Poor guy. We're working up to it — he's harnessed in town and the trips are too short for him to really get overwrought. But half an hour on the interstate, he loses his composure. We wonder if he doesn't think he's about to be dumped, again, and that's why he's so tweaky. Next up, experimenting with Rescue Remedy; maybe that will help him chill.
Still, this second adventure — our first was a five hour drive to Eugene, Oregon —  went much, much better. Tucked into his bed at my feet, Harley alternated between napping and fixing me with his root beer colored eyes — I figure he was saying "Are we there yet?" I put a t-shirt on him because not only is he absurdly cute in it, but I was hoping to contain some of his stress shedding. It helped, though I regret not keeping a lint roller
in the car (what a rookie) because when we arrived at our destination, one of us was nearly as furry as the one who's supposed to be covered in fine white hair. (Wait, what? Never mind.)
We stayed at another Airbnb studio cottage, this one in Portland's Mt. Tabor neighborhood, about three miles due east of downtown. (I search for "pets allowed" under amenities and I email the hosts to confirm that dogs are okay.) We liked the easy parking and the nice neighborhood stuff nearby. (Tabor Bread has serious Euro-style carbs and the toast is only two dollars, compared to San Francisco's four dollar toast). Harley's needs are so basic; he also liked the quiet streets and, bonus, he had a good greeting bark with Charley, the hosts' dog. As long there's no heavy traffic nearby and plenty of things to smell, Harley's happy to hand out a five star rating.
The weather was vile most of our visit so I was glad I had packed a crappy old towel. I keep two by the back door at home so I can dry H-dog off after our walks, but on our first overnight, I forgot to pack one and ended up sacrificing one of Harley's blankets as a landing pad.
This was a short visit — just one night to join family for dinner — but it was a good second training run for all of us. We're making good progress; it may be ambitious, but I have high hopes he'll be truly road ready by summer. High hopes we both be ready; I'd sure like to take him on some bigger adventures.
§
Harley's Road Trip Packing List, v1.0
Food and dishes
Blankets
Dog crate
Bed
Seat-belt harness
Leash and harness for walks
Weather appropriate clothing
Towel
Lint roller
Bottled water
Treats — training treats, chew sticks, a toy or two