Exhausted by the news of the world? Yeah, me too, me too. That's why I was so grateful that my friends Andy and David came to town, distracting me from staring into the never-ending dumpster fire that is 2016.
We had initially planned to make a day trip to Mt. Rainier, but when the forecast called for rain mixed with snow, we diverted and took the ferry to Bainbridge Island instead. A ferry ride is almost always a good idea — even when the weather is vile it is lovely to look at the skies over Puget Sound from the surface of the water. We had a very nice day and the summer showers fell just as we were eating our lunch at the boarded up former military cabins at Fort Ward. There are worse things to do than sit on a covered porch eating excellent savory baked goods from Blackbird, waiting for the rain to pass.
I had never been to Fort Ward, it's a steep hillside that ends in a paved walkway along the beach on the southeast side of the island. There were very few people there, locals walking their fancy dogs (all the dogs were fancy), a cyclist passing through on the trail. And the tide was out, we picked our way along the seaweed strewn rocky beach talking the best kind of nonsense and shooting photos. It wasn't until noon the following day that I returned to the web to find that the world was, oh look, still on fire. I felt somewhat lighter for a 36 hour diet from the news supplemented by the company of good friends. I recommend it.
[Amazon affiliate links on stuff you can buy, as always. I get a little something, you get the same price. Puts a few bucks in my pocket. I cleared 36 dollars last month; that covers about six months of web hosting. It matters, so thanks for clicking through to shop.]
---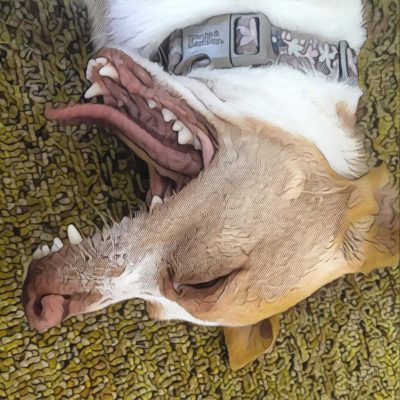 I might have mentioned that I got a dog and his name is Harley and he's on Instagram. There's a new Instagram compatible photo editing app called Prisma out, it's free, and if you using sparingly, you get some cool things with it. (Countdown to Facebook buying Prisma starts in 5…4…)
I read about dogs a lot now because, oh, I have a dog. Here are two pieces about the complicated relationships humans have with dogs — they are sad and sweet and my dog had better live forever because I can't imagine.
We went to see The Secret Life of Pets and no, we did not spring for the 3D, instead, we went to The Admiral, our closest theater with the worst possible seats, man, that place needs a remodel. The movie is really fun, if not the best cartoon I've ever seen. I don't think the story line is as airtight as it is in the Despicable Me franchise, but the cat is hilarious, as is the basset hound as a stand in for the oldster who's dismissed at first but turns out to know how to get shit done.
I am guilty as charged of singing the outro song to Harley, even before I knew it was in the movie. You should have some Bill Withers in your discography, no matter what format or source. Yes, Best Of will do the trick, all the good stuff is there.
Please admire the luscious bass, the shiny brass, Bill Wither's honeyed tones — and here's hoping something makes the world all right for you.