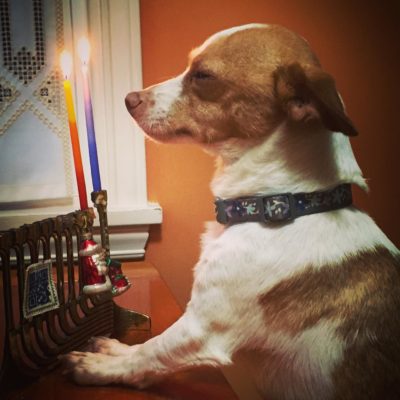 I still remember what I did not have at the ready upon Harley's arrival home. This year, instead of the usual traveler's gift guides, I've recommended things for new dog owners. Everything here is something I've purchased and used, and it's all very practical.
Take note, these are affiliate links — I get a little cash if you buy. And to be clear, these are not things I need — I've got all this stuff. (Though Harley still loves a good sweater, and I love him in one. He's about 13 pounds and wears a medium Chilly Dog sweater. FYI.)
Someone you know got a dog lately, right? Wondering what to get them? Here are a few ideas.
Seatbelt harness: Your dog does not belong free range in the car, it's not safe. Yes, sometimes I put Harley at my feet or in my lap when I'm in the passenger seat. No, this is not a good idea. But if I'm driving alone, Harley is clipped in the back seat. I talk to him while he whines, or I turn up the radio. He doesn't love it back there, but he's safe there, so too bad, little dog.
Airline carrier: I got mine at a garage sale, it's this model. Harley is carry on size so he's allowed to travel in the cabin (specific regulations permitting). I leave the bag open in my office and he hangs out there, assuring that the day I do fly with him, he'll be at least comfortable with the bag. He's very comfortable in there, I've heard him snoring while I work.
Beds, beds, beds: I am almost embarrassed to say there are dog beds in every room on the main floor in my house. Harley likes to be where I am, though he especially likes his bed by the heater vent in the kitchen. I take that one with us in the car, too, when we travel. The link is to a fancy ass Pendleton bed. Mine was a gift, second hand from a cat, not as fancy, but Harley LOVES it. Plus, it's machine washable. Pro tip? Add white vinegar to the laundry, it helps release the dog hair. I do not know why, but it totally works.
Lint rollers: This is a hugely boring gift and there's one in my linen closet and one in the car and a mini one that lives in my favorite carry on bag and and and because my life includes dog hair now.
Furminator: Did I mention the shedding? There's shedding. This expensive thing genuinely helps cut down on the shedding. Get the one that's right for the size of your critter and the length of his hair. Harley is mixed on being groomed, he'll sit for a while in the sun while I comb him, but he gets bored. No matter, a bit of combing now and then helps.
Nail clippers: If your dog lets you trim his nails, well, more power to you. It's a two person job at my house, or it takes place over the course of a few days as I sneak up on a napping Harley and clip one or two of his toenails. It's such a hassle, though, that I have taken to paying the ten bucks to have it done at the drop in clinic down the hill from me.
Light up collar: Baby, it's dark outside. I have an orange LED light collar that Harley wears when we're walking at night. It's good to be seen, it's safer for both of us.
Wire training crate: I got mine for free from a neighbor, it was a huge help when I first got Harley home. It's where he spent the day when I had to leave him. It's bigger than his standard crate so he's got room to kick his blankets around. And it's become his living room; it's where he hangs out when I'm on the couch.
Kong: Fill this weird rubber toy with peanut butter or mashed potato or whatever your dog goes nuts for and he's preoccupied for a good long time. Put him in his crate with the stuffed Kong before you leave the house and it's a while before he notices you're gone. Okay, that's not totally true, not for Harley, but it might work on your dog.
Thrift store/supermarket stuff: There are a bunch of helpful second hand/super cheap things, dog owners need. Towels, blankets, cute water bowls or food dishes, place mats (I have a plastic one underneath the dog dishes), squeaky toys, and treats. A dog doesn't always take to everything, Harley's got a clear preference for two specific toys, and he's a bit of an epicure when it comes to snacks, but I sure appreciate the thought.
We stayed at an Airbnb a few months back and our hostess left dog treats along with treats for us — we were thrilled, and Harley got extra goodies. It's always nice to learn what your dog likes, too, so even if the dog seems ungrateful, you've saved the owner some research. (Freeze dried salmon and chicken jerky, if you're Harley, BTW.)
Did I forget anything? Please let me know so I can add it to my own wish list for this year!
Home page image:  Christmas Party Animals by MattysFlicks via Flickr (Creative Commons)