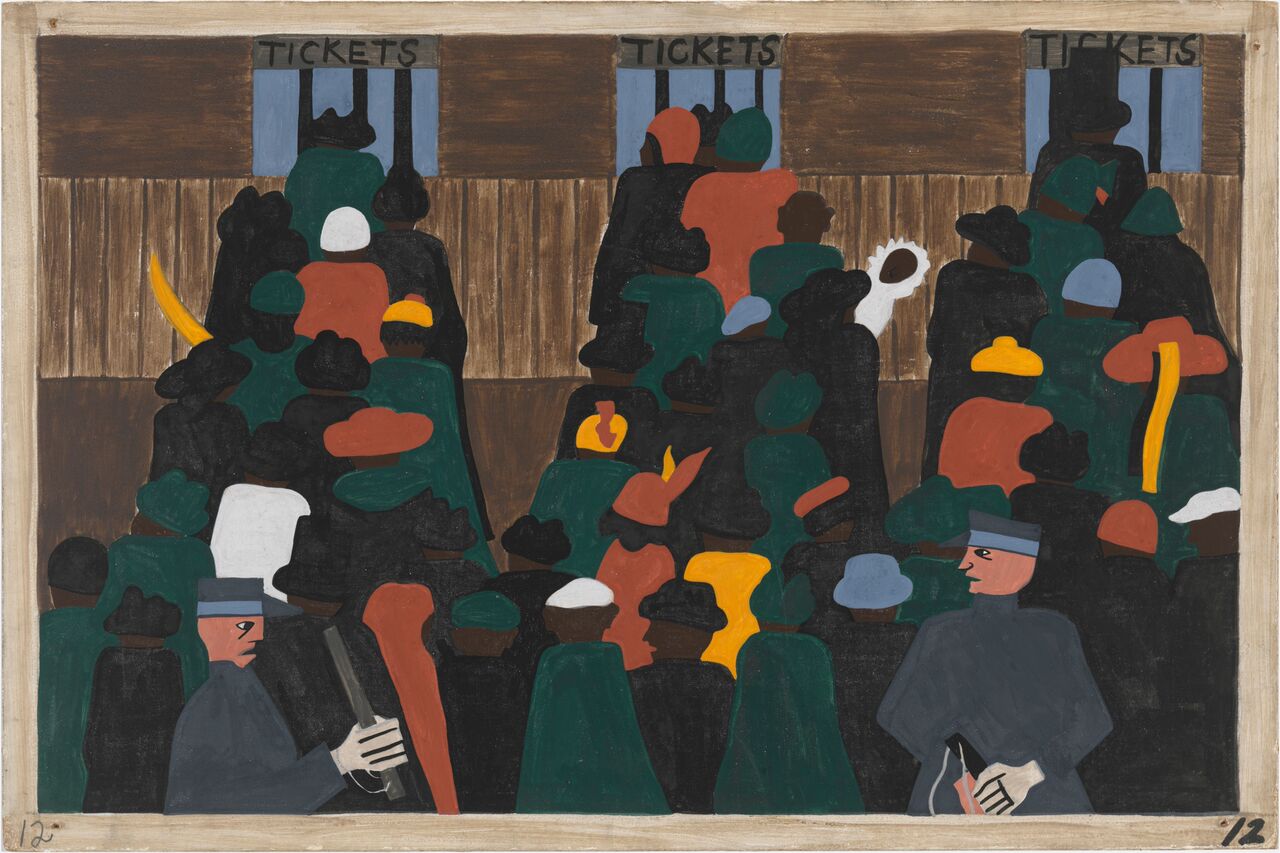 "Big weekend," said the woman. It took me a minute to understand what she was talking about – it was the Women's March. Here in Seattle turnout estimates went as high as 175,000 marchers.
I had no context for her remark. I was at a talk about the artist Jacob Lawrence. There's an exhibit of Lawrence's work at the Seattle Art Museum right now. This particular body of work is 60 small paintings which, when displayed together, tell the story of the migration of African American workers out of the south during World War I. In short, floods and parasites had devastated the cotton crop, the War had jacked up the cost of food, and hungry families headed north in search of something better, refugees in their own country. Lawrence was born in Atlantic City, but his parents moved there from the rural south, the work is his story, too, his family's.
Friday, I turned off my TV, shut down all my internet connected gadgets, and opened the front door to my house. Through the course of the day, about a dozen people stopped in to sit at my kitchen table, share snacks, and trade stories. It was nice, a Weimar era salon in my kitchen, artists and writers and queers and Jews and Europeans and musicians and even my dog is stray; he chose to hang out with us much of the time.
On Saturday, I'd been on the streets of Seattle. It had been a good day. I'd attended a pre-March party where we raised several hundred dollars for Planned Parenthood. And then the streets of Seattle filled with joyful protestors of all stripes. Jews in solidarity with Muslims. Men chanting, "Her body, her choice!" The Socialists and a group of sex workers and families with young children. Later, I saw pictures of Native American groups and the Satanists and Black Lives Matter protestors. And of course there were scores of marchers in pink pussyhats, the guerilla symbol of the march.
And now it was Tuesday. The weekend seemed ages back and I was waiting for a talk about Jacob Lawrence, a black artist whose work was funded by a WPA Federal Artist's Grant. That same day it was reported that the new President (I don't use his name) wants to eliminate the National Endowment for the Arts.
The woman who said "Big weekend," was white, perhaps in her 60s. The other woman at my table was black, maybe the same age, maybe a little older.
"Big weekend?" I asked.
"The March," said the white woman, and I snapped into focus.
"Oh, yeah, that was something. I was amazed by the crowds. And it turned out to be a nice day, too."
"I don't know," said the black woman. She launched into a speech – it felt like a speech – about how she's a black conservative. "People assume that because I'm black, I'm liberal, but I'm not, I'm a black conservative. John Lewis? What's he done for us lately? And marching, well, it's freedom of speech and people should do that but it's not going to change anything." She repeated the term "black conservative" several times. "I voted," she said, "my people fought for the right to vote, but none of the fools on the ballot deserved my vote. And this march, it's not going to change anything."
It didn't seem like a good time to get into it. I didn't have John Lewis' voting record handy and I was drawing a complete blank on what he had recently led a sit-in on – it was gun control, I looked it up when I got home. "I try not to assume anything," I said, and asked her if she'd been in town for the 1999 WTO protests. She'd lived in Seattle a long time.  "You've seen this before, then," I asked, and she nodded. The presenters turned the lights down and started the slide show, so we turned our attention to that, and then, we went into the gallery.
The paint on the Jacob Lawrence panels is thin and dry looking and the panels are small. They have a graphic novel kind of feel to them, like the best way to experience them would be to hold them in your hands and flip through them, one at a time. They're hung in a row that wraps around the gallery walls, a few of them are stacked two high, but mostly, it's a single row of these small, dry, graphic paintings with wildly understated captions. One of them says "There were lynchings." One says "They found discrimination in the North; it was a different kind." I don't know that I would say they are beautiful, but I did find them deeply affecting, they certainly tell the story Lawrence wanted to tell.
The women's march was predominantly white, at least from my point of view. It's not that there was no color, it's just that the majority was white. Through the course of my day, I'd say a mere 10 percent of the crowd I saw were people of color, an approximate mirror of my experience in Seattle on a daily basis. And you know what? I'm totally guilty as charged, I do default to thinking most people of color I meet are liberal. With what I know of American history, it is hard for me to imagine anything else. I try not to assume. I fail, often.
This doesn't mean I think the left deserves some kind of award for our work; we are clearly not serving our black and brown neighbors the same justice we reserve for ourselves. I have the same problem with Jewish conservatives; I find it shocking that Jared Kushner, an orthodox Jew, thinks it okay to stand in the same room with the man behind Breitbart – a website that propagates anti-semitism.
The last panel in the Lawrence series shows a crowded railway platform. There's luggage on the ground, and brown faces under hats, figures dressed in heavy coats and ties, men and women and children, all of them waiting for the train that's meant to take them to a better life. "And the migrants kept coming," it says; that is the understated caption for this image that suggests an endless tide of humans seeking a better life.
Friday – a week after his swearing in — the President signed an executive order preventing Syrian refugees and those from a handful of other countries from entering the United States. I saw a rumor on Twitter that passengers from those countries were being denied boarding for US bound flights. Saturday night I joined the protestors at the Seattle airport, we stood at the baggage claim shouting "LET THEM IN. LET THEM IN."
You should go see the Jacob Lawrence show at the Seattle Art Museum. It tells a great American story about change and racism and hope. The work is called The Migration Series and it will give you a lot to think about.