"Influencers hate that you can't take pictures at Paisley Park." The PR woman from Minneapolis told us that while we finished our breakfast in a decidedly Instagram-worthy venue. The walls at Hot Plate are covered in paint by number "art", nearly every horizontal surface is cluttered with saccharine keepsake figurines, and there were chandeliers over the Formica tables with little more than their late 60s – early 70s style to justify their shared presence in the place. We were stuffed with eggs and diner coffee and none of us were interested in influencing anyone, so we didn't really care. we just wanted to see the place where purple had reigned. We left the PR woman under the gaze of a paint by number clown, or a sea captain, or Jesus, or all of the above, and in the company of four inch tall plaster figurines declaring their love — this much — from the edge of the dividing wall behind the booth.
It's maybe a 20 minute drive from Minneapolis to Chanhassen, the suburb where Paisley Park stands. When you see it from the highway, it looks like a biotech company, or a place where clean room electronics are assembled, a 1980s stack of windowless white Lego with a pyramid tower with another round tower standing separately off to once side. It's surrounded by immaculately mowed lawn — keep off, please. It is utterly characterless, the set of a sanitized science fiction future. I had seen pictures of it, but even so, I was unprepared to roll up to what looked like a semiconductor manufacturing facility.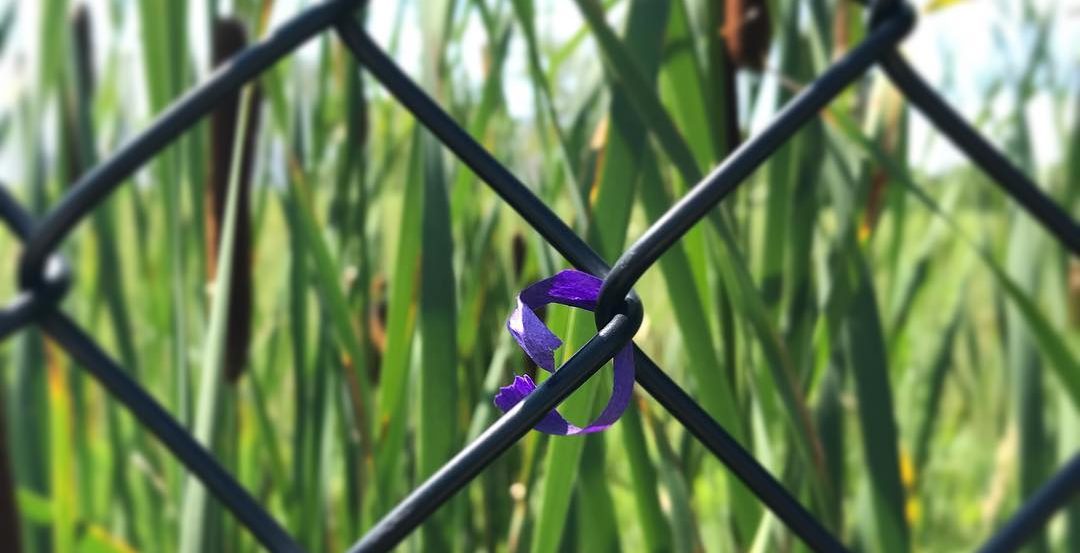 The fence between the edge of Paisley Park and the grounds was once festooned with tribute offerings; now you have to walk around to the underpass to see what gifts people are leaving for the spirit of the departed one. A security guard sent us down to look; the semicircular dome of the walkway is covered with graffiti including a portrait of Prince stamped out of that shape he used to sign his name, all in shades of purple. There are Mardi Gras beads and photos and hand written notes in sheet protectors and fake flowers and so many purple trinkets. I found a tiny slip of purple ribbon wrapped around the chain link; it's impossible to know if that was what's left from the staff regularly cutting away the grave site gifts, or if that strip of shiny purple was the entire offering.
Paisley Park is run (now) by the same organization that runs Graceland. This makes sense, it's the same kind of temple, a house where American music royalty lived and died, recorded and played and watched basketball and ate pancakes. The property was in the process of being converted into a museum by Prince himself before he died, so if it feels a bit staged, that's intentional, Prince meant it to be that way. I felt the same odd vacancy I felt when visiting Graceland and — spoiler alert — like Graceland, Prince's remains are at Paisley Park. Prince's ashes sit in a translucent glass model of the building itself perched on a shelf in the central atrium. It's weird, though it's possible that the experience was made weirder still by our guide, a pale android of a man who can't have been old enough to have heard Prince in his prime.
I had only seen Prince perform once and it was quite late in his career. He had a stadium show here in Seattle and a day or two before the show, there were hundreds (it seems) of ten dollar tickets. A friend snapped up a stack of them and off we all went, a big group of us, to see Prince from the nosebleed section of Key Arena. It was great, everything about it was great, the crowd in Prince inspired attire, the band as funky as all get out, a woman in shiny thigh high boots laying it down on the bass, Prince himself appearing like a magician in the middle of the stage, his slight stature doing nothing to detract from his absolute rock funk soul status. God, that was a great show.
But Prince, to me, is 1999 on vinyl, painting on eyeliner to go to the clubs and dance, staying out all night. I still own a pair of over the knee purple suede boots — they're flats — because I can't let go of them, of the idea that I would once wear them with fishnets and cut-offs and a sweater that was too big. Prince is the soundtrack to being an unfettered young adult, to waking up in strange beds and being happy about it, the boundless optimism of 22 years old. Prince is art school and it's okay to be weird and going to New York by myself for the first time and taking the train to San Francisco and "Nevermind your friends, girl it ain't no sin to strip right down to your underwear." A good six months after Prince died, I'd still get weepy hearing Prince on the radio because Prince, man, that music was to be young and so alive. "Screw the masses, we only want to have some fun."
On the Paisley Park tour, you get to see a lot of Prince's custom made outfits and his guitars and his motorcycles. You see the office kitchen and there's a fancy espresso machine on the counter and a television showing a particular basketball game, I've forgotten which one. You see a lot of gold and silver records and you go into the studio where oh so much amazing music was recorded. There are a bunch of movie clips, Purple Rain, of course, and movie posters from Under the Cherry Moon, which was terrible. You see the private theater where Prince would have private shows — oh, man, that must have been something.
And there's a living room space where there's a swoopy purple couch, of course it's purple, and a piano, black and curved and rigged with some sort of hydraulic action; I've forgotten for what purpose, perhaps to help Prince and his piano rejoin the mothership when he's done playing. This little room with the piano is one of the few with windows to the outside. There are glass doors that open out on to a back patio. On the concrete platform there's patio furniture, the heavy duty metal stuff you see on the loading dock of workplaces everywhere. It's where the security guards and the admins go to smoke cigarettes and talk about their weekends.
My brain got stuck on the patio furniture. Everything else is so styled, the blue sky with the puffy clouds painted on the walls in the atrium, the Prince as the center of his musical universe mural, all those brocade outfits, and there, just beyond those glass doors, that Costco patio furniture. After Prince's office — where a pair of shoes lay discarded on the floor, his desk a pile of paperwork and magazines, it was one of very few things that seemed real at Paisley Park.
The last exhibit space is a section of chain link fence with those offerings gathered from the street, and opposite that, there's video of Prince playing Purple Rain in the rain at the Superbowl. There are whole sections of the property that visitors do not get to see. I had imagined climate controlled walk in closets full of his shoes and suits, and, I don't know, there must be other places where Prince feels present.
I don't have any pictures from the tour of Prince's former home and studio, but it doesn't matter because he doesn't live there anymore.  You want to find Prince? He's alive in his music, of course he is.
And in that tiny strip of ribbon stuck between the cross hatching of the chain link fence at the edge of Paisley Park.