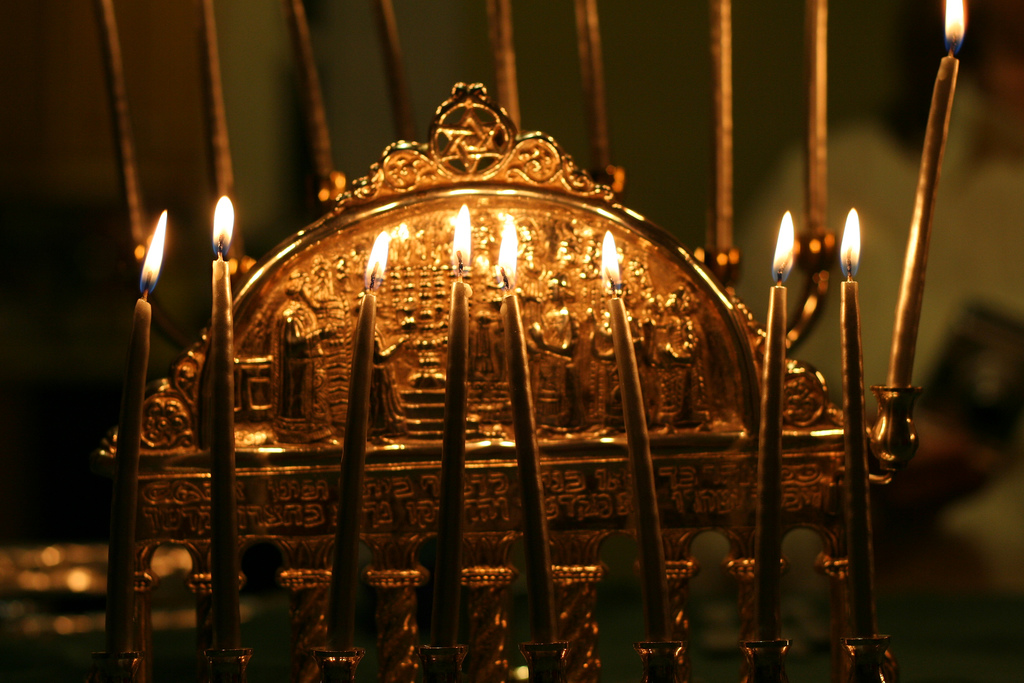 I would be hard pressed to tell you what I believe in. Integrity, I believe in that. History and science. The value of art. But from a religious perspective, I've got next to nothing.
I don't believe in some great order or plan. I'm not convinced that a Messiah is coming to save us, I don't care what name you give him.  I figure saving the world is our job and if there is a Messiah who leads us through the sealed gates into a bright new future, those who worked to build that future get to use the VIP line. The rest of us have to stand around wondering where the nearest bathroom is and if the person behind us will hold our place, I'll get you a soda at the corner gas station too, do you want me to grab you a Snickers bar? You think we'd be inside by now. Wish I'd wasted less time online, done more work for good. What did you do before the apocalypse?
I don't believe in the literal interpretation of scripture. I don't think a higher being would deny us crispy bacon or mango shrimp curry or driving on the Sabbath, though I do think a kind god would want us to take a day off. If a god gave us science, that same god gave us Darwin, and Darwin taught us that the species should mix it up to be strong, not that we should confine ourselves to ghettos of our own making. The great religious books are allegorical, I figure, from a time when we didn't have refrigeration or the internet or air travel so we could meet our global neighbors and learn that we shouldn't fear them by default.
On this eighth night of Hannukah, I went for a walk just before it got dark. The moon was the tiniest slice of light in the sky. A few houses had menorahs in the windows, blocky electric gadgets with all eight bulbs aglow. It made me happy to see them, like I wasn't alone in the world. While I don't necessarily take to the religious trappings of my heritage, I do believe in the messy cohesiveness of The Tribe. I'm not sure it matters if I believe it or not, though, I had my DNA tested this year and I'm 97% Ashkenazi. That messy cohesiveness runs in my veins. (The other bits? Spanish and Yakutsk. Huh.)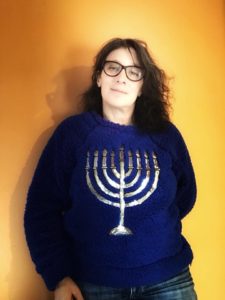 It feels like a political act to be out as Jewish right now, to claim this identity openly.  I had a weird experience with this while wearing a fuzzy blue menorah sweater one evening; a woman kept calling "Hey Jewish girl" at me while I played with my band. Less than 24 hours prior, attackers had firebombed a synagogue in Sweden; I'd read the news about it not long before leaving my house. Imagine this in your head while a stranger shouts "Hey, Jewish girl!" at you.
I suppose I look Jewish, whatever that means. I've got the dark hair and the hazel eyes, but I once went to a Persian music concert and everyone there looked like we could be related. I could pass for Lebanese or Greek and I'm sure there are places in Russia where people who are not Jewish look like me. I look white, mostly, so to be out as Jewish creates the opportunity — sure, let's say opportunity — for people to interact with me differently than they do when they're sure I am The Same as Them. And by The Same as Them, I mean white and Christian.
Labeling Jews wasn't invented by the Nazis, it predates the Third Reich by hundreds of years. Jews were required to wear badges in the Islamic world and Europe as early as the 1100s. It's a tenacious idea, this labeling of the Jews — Dylann Roof, the white supremacist who murdered nine people in a black church in South Carolina, said he wanted us to be blue so people could see what we were up to. No good. Obviously we were up to no good.
For much of my life, I've thought that it hasn't mattered that I'm Jewish, that it in no way changes how I live in the world. Given that my attachment to the religious part of Judaism is tenuous at best, there's no reason to think I'm any different from the sea of secular Christian-born (or other denomination) humans with whom I share a planet.
But my view has evolved over time. I lived, for a while, in a part of Europe where the Jews had been systematically exterminated.  I've traveled to places in the US where there are almost no Jews left. And now, we live in a time where American Nazism is on the rise. Now I think it matters a lot that I'm Jewish. Though it has nothing to do with what I believe — and everything to do with what other people believe. They think I'm different.
Because others think I'm different, I feel an increased responsibility to be out as Jewish. Partly, this is in solidarity with our black and brown citizens, who don't get to decide how they're seen. Partly, it's to break the mystery and stereotyping. I met a Jewish historian in Missouri who told me that some of that region's antisemitism was because the residents had never met any Jews. Once they had Jewish neighbors, they left their crazy racist ideas behind. (More of that, please.) The young woman calling "Hey Jewish girl" at me later admitted that she'd never met a Jewish person before she moved to Seattle from North Carolina.
A few years back I was in Vienna and I looked out the cafe window to see a guy in his 60s with a yellow star pinned to his coat. I still regret not talking to him, but I also wonder if I didn't learn everything I needed to know just by noticing him. Austria's Jews make up less than 1% of that country's people. (In the US, we're barely 3%.) His star was an act of defiance, a history lesson, an unassailable claim to his own identity.  I have never seen anything braver than this gray haired character going about his life in modern Vienna with a yellow star pinned to his jacket. He was unafraid to be seen for who he was.
There were Hannukah lights in three houses in my neighborhood. Maybe there are more where — as in my house — the candles burn out of sight from the street. Next year, I will move mine to the windows so others will know I'm here. I like the light I can see. And I want to be part of that.
I believe in light. There's that, at least.