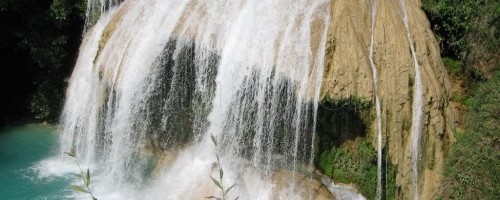 I'm in Chiapas at ATMEX, a conference for people who promote adventure travel in Mexico. Nearly all my expenses were paid for.
The morning of the waterfall excursion, I left my camera on the windowsill outside my cabin. One of the ladies at the restaurant gave it back to me that evening. I wasn't worried my camera had been stolen or lost — I'd taken pictures with it early that morning, I just couldn't remember where I'd set it down. My phone was dead too, my charger cable AWOL. This mean that if I was going to get images from my day hike to the waterfalls of El Ocote, I was going collect them with my eyes.
If I'd had my camera with me, I would probably be posting pictures of  sparkling light shining down through the cascades of clear mountain water. I'd show you my hiking mates, soaked to the skin, splashing in the terraced pools, drinking beer on the scallop of sandy beach. I'd show you the stair climb, the trail along the edge of the steep cliffs, and maybe our clothes laid out to dry in the sun. I would show you pictures of our guides, who were good looking, charming, smart, supportive, and made me feel safe. I might have asked the shy women who made our lunch (which included some seriously kick ass tortillas and the best salsa I've ever had) if I could take their picture, and then, I'd show you their photo, too.
I probably would not show you the collapsed diamond plate bridge or the metal ladder — both terrible hazards. And I wouldn't show you the most disappointing thing — that upon reaching the most spectacular section of the falls, you are confronted with dilapidated cinder block outhouses and a disappointing array of garbage.
Were I to show you exactly what I saw before that magnificent drop of the falls, you would not want to go there. On the drive back from the falls, I thought about how I shoot pictures. I promised myself I would crop less, that I would use photos that tell the truth about places, that I would apply the same rules to my photography that I try to apply to my writing.
The family that maintains this splendid natural site wanted to know what they could do to make it more appealing to visitors. I felt imperialist and judge-y for being bummed out by the rubbish, and yet that's what I said out loud — that the garbage was a bummer. I still see drops of water throwing light everywhere when I looked up but I also still see that ugly mess, plastic drink bottles and shiny snack wrappers floating in the muddy puddles at my feet.
And I feel guilty for thinking this way. The people who paid for me to eat the best tortillas I've ever had to and to squint my eyes in the rainbows of a falling river will not like that I am not just thinking about, but also writing about, the stuff they would like me not to notice, not to share.
They would probably prefer me to crop this stuff out.
§
Must read:  Frank Bures' article about travel writing in Nowhere Magazine.