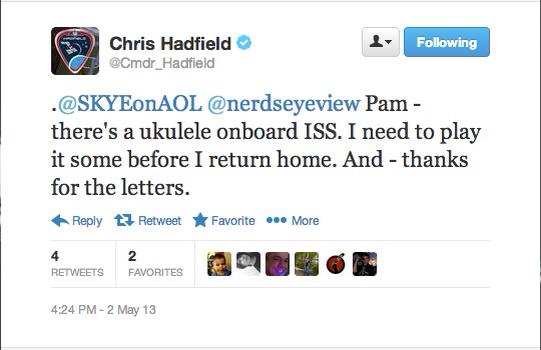 In case you're curious…
1. I said something effusive and emotional on Twitter after Commander Hadfield released Is Somebody Singing. (Yes, I spend too much time on Twitter. Or do I?)
2. Jim Benning, my editor from World Hum — who also edits for Skye — caught it and said, "Hey, I have this idea… are you game?" (People. Good editors are an endangered species. We need to get  the WWF on this issue.)
3. We signed a contract and for about two months now, I've been writing letters to Commander Hadfield. Unanswered, but hey, I get it, the guy is running the ISS.
4. I'm awake at 2:30 am, restless with jetlag and check my email. There's Jim saying, "Uh, you should look at Twitter."
5. There's no fifth thing. But hey, anything can happen, right?
Look, I get it, it's no big deal, it's just a short note from space.
Also, OMG COMMANDER HADFIELD READS MY MAIL!
Plus, I am picturing him knocking around the ISS attic of floating objects: "High school yearbook, um, no, uh, tennis racket, no, vintage radio, we were totally going to fix that thing, X-Men lunch box, man, that would pull a fortune on Ebay, oh, here it is! Here's that ukulele! I knew it was here somewhere!"