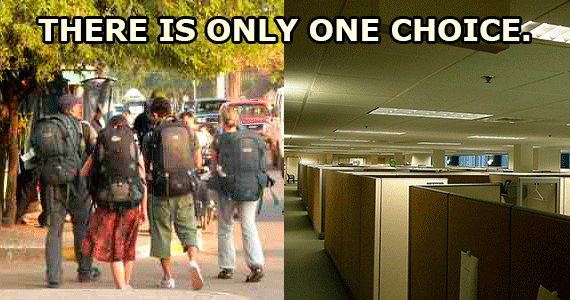 11 Inspiring Stories Of People Who Left Normal Life And Embarked On An Adventure
If you follow social media and travel, you had to be hiding under a rock to miss BuzzFeed's piece on travelers who "Left Normal Life and Embarked on an Adventure." I managed to ignore it for the first 24 hours, then I was hammered with vitriolic commentary from friends who have Had it Up to Here with This Kind of Thing. They wanted to tell me all about it, directly or indirectly, and in some cases, had valid criticisms like:
Where are the brown people?
If everyone bugs out, who's going to keep the lights on?
People have been doing this in more interesting ways for time eternal. This. Is. Not. News.
I wasted some time thinking about the kinds of stories that never get written, about the people who never end up on web traffic spiking listicles, stories that are 100% true, no hyperbole.
The truth is so much more complicated than "I quit my normal life." What if those stories got published? What would those headlines look like? And what's "normal life" anyway?
How I Found A Job I Like and Travel When I Can Afford It  (Which Isn't Actually That Often)
These 6 Travelers Come from Countries with Social Safety Nets so if You're American, You Probably Shouldn't Compare Yourself with Them
These 5 People Just Worked Stupidly Hard at Highly Paid Jobs  and Had No Life for, Like, a Decade — You Could Probably Bug Out Too if You Did That
This Couple is Not Gonna Lie: They're Loaded, They Can Go Wherever they Please
Expat Life Can Be Terribly Tedious, Especially if You're a Minority
9 Travelers Who Don't Really Care Where They Go Next as Long as Someone Else is Paying for It
I posted this list to Facebook and was overrun by friends who wrote their own. Here are my favorites (revised slightly from the originals for hyperbole friendly headlines):
You Won't Believe How Place X Changed Me: Not At All.
There's Only One Acceptable Way to Travel, And It's … It's … Well, Actually, It's Whatever Way That Works For You, Which May Be Different From The One That Works For Me.
10 Gajillion Places To See Before You Die, Or Not, Either Way.
A Profile Of The Amazing And Delightfully Eccentric People I Met In This Exotic Off-The-Beaten-Path Place Called My Local Bar.
12 Things I Had to Pay for but Purposely Left Out of this Travel Story So You Think You Can Travel Europe on Five Dollars a Day
Children: Oh, the Places We Could Have Gone
Hotties From Around The World That I Have Loved And Lost, Mainly Because I Was Staring At Them In Lecherous Silence From The Other Side Of Yet Another Irish Theme Pub And I'm Old And Fat And Where Did It All Go Wrong?
How to Be a Location-Independent Freespirit (As Long As You're Permanently Living In A Hostel In Chiang Mai)
For Every 14 Miserable Situations There Is One That Makes A Good Story So I Tell That One
I Traveled The World On My Own, And It Turns Out That Didn't Make Me Any More Interesting Than I Was Before.
6 Attractive People Who Left Everything at Age 24 to Travel The World (Formerly Known as "Taking a Gap Year.")
This Travel Blogger Started A Blog To Fund His/Her Round The World Travels. What Happened Next Had A Sad, Weary Inevitability About It.
9 Solo Women Travelers Who Quack On as Though They'd Been on One Woman Trips through War Torn Syria but Actually it was Belgium
7 People Who Used to Travel a Lot But Now Just Silently Loathe Other Travelers
14 of the World's Best Undiscovered Gems, Which Are Only Undiscovered In The Sense That This Publication Has Not Written About Them For Two Whole Months.
Enjoying Traveling with Children in Retrospect
These Family Members Spent Money they Couldn't Afford so they Could Have a Family Vacation they Didn't Really Want but Felt Obligated to Participate In
Thanks, Doug Mack, David Whitley, Andy Murdock, Nikki Bayley, Leif Pettersen, Mike Sowden, Kayt Sukel, Eileen Smith, Jason Clampet and everyone else who threw in on the snark and irony. For all of you, there's this:
This Guy Said, "I'm a Traveler not a Tourist" at Disneyland and Got Punched by a Mouse
Related: