Technique notes:
When your non-American companion says, "Oh.My.God." pull over and dig around behind your seat for the camera.
Don't bother checking the camera settings. Instead, just shoot the photo. When the shutter refuses to close, say,"Oh, that's not going to work!" and then wave the camera around for a little bit until the shutter finally does close.
Admire your results.
Our favorite is still this place in Kirkland because we can't help but admire the minimalist color scheme and the supreme attention to detail. We also have to acknowledge the sheer excess of this place, on the right as you come in to West Seattle. I believe it has four Santas, several penguins, a pair of elves, deer and, hmmm, is that a polar bear, along with the requisite blinky lights, bows, and snowflakes.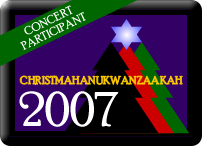 And while we're at it, it's time again for Citizen of the Month's Blogger Christmahanukanzaakah Online Holiday Concert. (Wow, that is not going to fit on the back of the tour t-shirt!) I sent in "I've got my love to keep me warm" – a swell little Irving Berlin tune. And if it sounds like I'm playing from the bottom of a well, consider yourself lucky that it doesn't sound like I'm playing right next to you. I love this open mic day on the web, so thanks, Neil, and may your dreidl always land on gimel.
[tags]Christmas lights, photography[/tags]