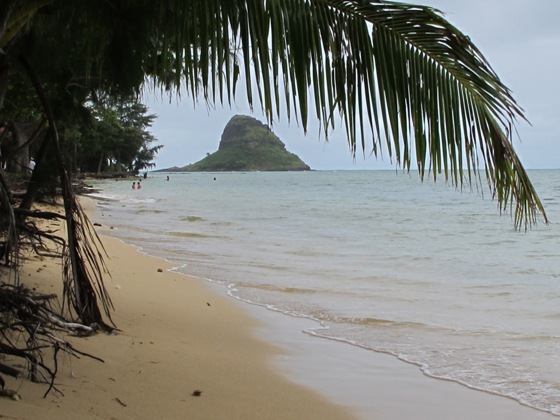 Imagine yourself in Hawaii. Images of sun, surf and sand will arise and a sigh may escape your lips – even if you have never visited the islands. But these same images can connect with coastal areas of the U.S. mainland, as well as other countries and tropical islands. Is Hawaii any different? If not, it is hard to justify the time and expense it takes to get here, much less the cost of eating and driving around. I want to make a startling proposal: Hawaii may not be worth it.
I fell in love at first sight with Hawaii and have lived here several years now. But I have also talked with and heard from many, many visitors during that time. I have also come to know locals, both Hawaiian and kama'aina (long time local residents). It has taken me awhile to figure out why the very same visitors who seem unhappiest are the ones who irritate locals the most. My breakthrough came via Twitter.
"If people want to know about Hawaii, they're welcome. But if they just want a palm tree and tropical drink, they should go to Florida." This came in an interview with locals who work in the Hawaii visitor (tourism) industry. A little harsh? Maybe. I'm not sure I came to Hawaii the first time for a history or culture lesson. I'm pretty sure I was interested in palm trees and I KNOW I took a picture of a Mai Tai with a little umbrella in it to send to my sister by phone. Later, I read a series of Tweets from a first-time Hawaii visitor. She was at first excited to be here; gloating to mainland co-workers. Then she was dismayed at the cost of groceries, lamenting $5 for a gallon of milk. Finally, she confided: "Hawaii is over-rated. Go to Florida or Mexico and you'll get a better deal."
Hmmmmm. Did the two sides of the looking glass just meet? Maybe. But as with most mirrors, there's more than meets the eye.
While Hawaii has beautiful scenery, it is more than a movie set; it is a real place that people call home. Those of us who live here pay the same high prices for food and gasoline as visitors and the plane trip back to the mainland is just as long and expensive when we visit family. But we love it here, and want the people who visit to see why we realize we are lucky to live in Hawaii.
It is as though I invite you to a party at my house. When you arrive, your first comment is "Wow, this place is really hard to find!." Then, "This is pretty small for what you pay, isn't it? How much is your rent?" Later, "Have you thought about remodeling? That carpet is pretty dated. I think there's a stain over there." Finally, "I could have gone to two parties in town in the amount of time it took me to get here."
Those might be comments you would make to a realtor showing you an empty open house but not to your host. I am aware my house is not perfect, but I have invited you to share it with me. Similarly, locals want visitors to be aware that they are in a particular place, not "Generic tropical beach #3." It only takes a slight change in attitude. For example, you might say, "I'm trying to save money on food, where do you shop? What do you eat for breakfast? How do you save money on lunch?" Locals LOVE to share insider tips, even if they frequently disagree with one another.
My guests who have enjoyed Hawaii the most have either wanted to visit specific Hawaii locations, such as Pearl Harbor, or just wanted to see what Hawaii is all about with no particular expectations. The unhappiest visitor has to be the woman who thought she would be welcomed by local natives still living in grass huts who would be happy to serve up an authentic family luau in her honor. Boy, was SHE surprised. And pretty disappointed. Other less happy visitors didn't really see any value to traveling this far just to get to a warm beach.
Another example:  Suppose you tell me, "I'd really like to see a Broadway play but New York is so far and so expensive, it's just not worth it. I can go to a play in any major city." You may want to see a play, but you don't want to see a Broadway play and you certainly don't value the experience of going to the play in New York. For your trip to be a good one, you need to realize that the play's the thing, not the setting. For another visitor, just walking down Broadway looking at all the theaters is an enriching experience even if tickets are prohibitive. That person's value is in experiencing New York rather than Chicago or Philadelphia.
To return to our unhappy Twitter-ers: "you'll get a better deal" on WHAT? If Mexico and Florida are alternatives, you really want a deal on a tropical vacation, but not on a trip to Hawaii. If you don't see the value of visiting these particular islands, the locals would prefer that you not bother. It is a waste of your time and money if you don't care which pool you sit beside with an umbrella drink.
For potential visitors, Hawaii is not worth the trip if:
You just want a warm place to escape from the snow.
You want a place with cheap food just like you get at home.
The high cost of gasoline will irritate you more than whatever you drove to see.
You don't really care about local culture or racial difference makes you uncomfortable.
You're checking locations off some sort of bucket list or world map.
Any beach with a palm tree is as good as another.
The main goal is to send gloating pictures of sunset beaches back to co-workers.
But if your face breaks into a silly grin when you say "Hawaii" (like mine), come on over. You're most welcome to sit on the sand and watch the boats sail by at sunset. I'll mix the mai tais!
Cindy Scheopner is a philosopher living in Hawaii. She claims to be a "recovering" journalist but can't seem to stop posting photos and stories on various blogs.