Here's the thing about using Yelp (or any other food finding app): You have to be willing to throw away the advice if you come across something more interesting or compelling.
That's how I came to be standing in the parking lot of the Frisko Freeze with two of my band mates. We were on our way home from playing a party on Fox Island, south of Tacoma, and looking for post show snacks. When we saw the funny little red and white building with outward slanting sides we knew, immediately, that we were not going where Yelp wanted to send us.
There's almost nowhere to sit at the Frisko Freeze– you're meant to eat in your car or take your onion rings away with you. The menu is in hand painted lettering on the glass. No, there are no coffee milkshakes and no bathrooms, and really, go sit in your car, already. We were lucky to get one of the benches under the awning on the north side of the building. We sat and watched an enormous red two-door Cadillac roll into the parking lot.
"How long is that car?" asked band mate Pete."17 feet? More?"
"Closer to 19, I think. It's long."
The driver went to order while the Missus came and sat next to us.
"I used to come here when I was in high school," she said. "Then we'd go see a Wailers show at the Armory. You remember the Wailers?"
"Of course I remember the Wailers," said band mate Ed, who is not old enough to remember them, but does anyway.
"I imagine the cars in the parking lot were all a lot prettier when you were in high school," I said.
"Oh, you bet they were. I came in a 57 Chevy Bel-Aire. And my girlfriend and I, we would buzz around in her tiny Volkswagon…"
"The Armory was the only place you could go for an all ages show, right?" said Ed.
I slurped my chocolate milkshake and tried to remember who The Wailers were. Hang on Sloopy, in case you're wondering. Paul Revere and the Raiders played the Armory, too (I'm Not Your Stepping Stone) and Roy Orbison and a whole pantheon of forgotten bands.
The Frisko Freeze opened in 1950. It's on the Tacoma Registry of Historic Places. It's a Googie style building — Googie being a sort of space age modernist inspired architecture that embodied the promise of a great future — flying cars and spandex jackets, one for everyone. Apparently, it was a favorite hangout for Washington governor Booth Gardener, but that's not really the appeal — the appeal is cheap, delicious drive in food and shakes that you're not sure how to get through the straw.
And that funky red and white building. It's totally irresistible.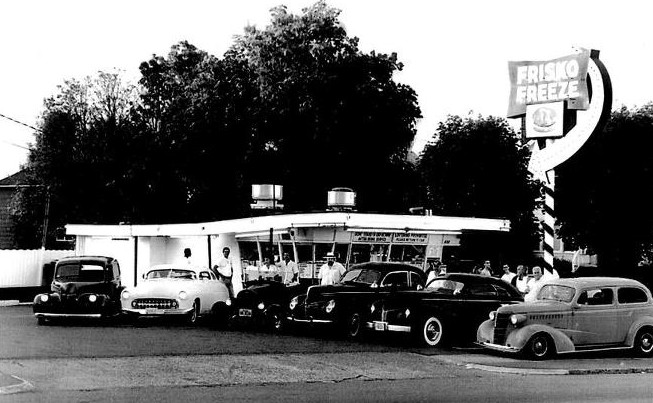 Summer Pledge Drive Update: I'm still trying to raise money to offset my out of pocket dental costs, but also, I'm now the owner of a 100% reader funded dental insurance plan! Totally amazed and grateful, thank you. If you'd like to help or want to know more, go here.