In Whitehorse, the Yukon Territory's bustling little city on the banks of the mighty Yukon River, you'll find an acceptable array of accommodations that include a Ramada, a Best Western, and a few other modest but functional hotels. You'll be fine, warm and comfortable. But if you're looking for something with more local flair than the usual small town hotel, you'll want to check out Eva Holland's Apartment.
Guests are made welcome right away by the free airport shuttle. A friendly driver will greet you at the gate and offer you handy orientation tips such as "the baggage claim here is notoriously slow" or "you are going to freeze on the way to the car, but it's not that far."
If you arrive in the winter, you'll have assistance hauling your oversized bag up the three flights of stairs you'll take to Eva Holland's Apartment. "No, it's cool, it's winter in Whitehorse. Of course you have a lot of stuff. I'd be worried if you were traveling carryon only."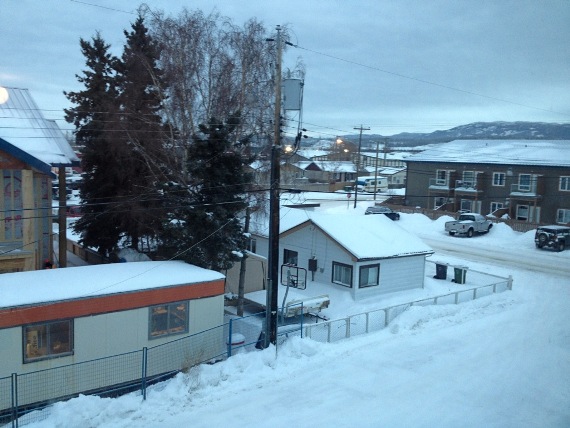 Once checked in, you will admire the spacious floor plan. You will remember that all of your city apartments were shoeboxes, whereas Eva Holland's Apartment is a roomy one bedroom /one bathroom flat with a big northern facing window. Common areas offer up plenty of reading material and a kitchen in which you are invited to forage for whatever snacks you can find. "I'm leaving town in a few days, so there's not a lot of food in the house, but there's a supermarket just across the street – we can go get stuff if you need anything."
At Eva Holland's Apartment, you'll receive excellent advice about local fashion and what to wear to which local venues. "So my city friend was all, 'REALLY, you are wearing your snow pants to the bar?' And I said, 'Yes, everyone in the bar will be wearing snow pants. It's FINE.'"
If your schedule permits, Eva Holland's Apartment will hook you up with a local guide for a walking tour of the city. You'll get the kind of insight into the city that's usually reserved for long term residents. "In a Portland moment, our roaster is in a bike shop," and "On any given day, I'll see six or eight people I know hanging out here, drinking coffee. They have good ginger cookies."
It's very quiet in the evenings at Eva Holland's Apartment. You can listen to   Aretha Franklin on vinyl, read, or plug into the internet and catch up on your email. Internet is free, but you'll need to share, Eva Holland's Apartment only supports one internet user at a time. Bedding is provided and you'll sleep through the very quiet nights on a fold out futon in the common areas. Pro tip: The futon is comfortable, but you'll feel the frame. Put the futon on the floor – there's plenty of room – for a better night's sleep.
Make your reservations well in advance; Eva Holland's Apartment has sporadic availability due to unpredictable staffing issues. Payment is on arrival and should be worked out prior to your departure from points south as it may involve going to the supermarket or ordering unusual books from online bookstores. My two night stay cost me a few packets of instant miso soup (not available in Whitehorse supermarkets) and a box of Fran's milk chocolate salted caramels. Your visit may require some other system of payment entirely.
Eva Holland's Apartment is not for everyone. You'll be expected to have a good grasp of literary narrative techniques, at least a passing familiarity with the challenges of being a full time freelance writer, and a willingness to listen to fact checking calls to Kentucky. But if you'd like an alternative to hotel room coffee and those plastic bottles of product ("I have all manner of moisturizers. It's dry here. If you need anything, just ask.") then you'll find Eva Holland's Apartment a welcoming – and very entertaining – stay.